Statistics


Being the geeks we are, what better than to have a page showing a breakdown of the selfish parkers who appear on our site. Please note before you read on that this page is a work in progress…which we aim to update fortnightly. As you can imagine, going through and counting a lot of the older posts has to be done by hand and so isn't the most joyous or quick things to do. However, saying that, our NEW site does allow members to log Manufacturer, Colour, Year, the Selfish Action and someday soon where. (when the app finally comes out!)
Date: 21/11/2017
Selfish Parkers on site: 4161
Members of Selfishparker.com: 1,439
Sample quantity: 1,112 (27%)
Some top line stats to start us off:
11% of the cars surveyed parked in a Disabled bay without a badge.
Blatantly parking over two bays is the highest scoring offense of selfishly parked cars with 35% parking – not including those who park over 2 Disabled and Parent & Toddler – yes these people do exist!
6% of the offenders parked on the pavement in a way that forces pedestrians to walk in the road. Another 6% make up those who park in limited residential roads and don't pull forward/back considering the line thus stopping others from getting a space (this is the reason the site was started when the writer lived in London – it drove him mad!)
7% have either parked on Double Yellows or on a corner.
5% have parked over 3 or more spaces! Beggars belief.
34%(!) of the cars posted have their own number plate. 1 in 3 selfish parkers will have their own personalised registration number.
MANUFACTURER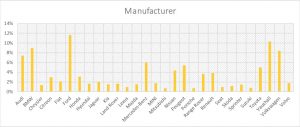 So what could we interpret from these stats about selfish parking car brands?
Ford is the number one car for selfish parking – though we take this with a pinch of salt due to the fact that it is one of, if not, the most popular brands in the UK and they make a lot of Work vehicles. What else?
Combined – Ford, Vauxhall, and BMW make up 31% of the selfish parkers logged.
German car brands BMW, VW, Audi, and Mercedes rank 3rd to 6th respectively. 31% of the selfish parkers logged drive a German car. Unsurprising?
12% of the cras featured are French – Peugeot, Citreon, and Renault.
Interestingly, to-date of all cars surveyed, we are yet to see any Lotus's or Lamborghini's.
Surprisingly, of the cars one might expect to appear… least likely to be parked selfishly are Skoda's, Seat's, Lexus's, and Porsche's accounting for only 4% of the total cars logged so far.
Performing even better (though could be down to quantity on the road)…Bentley's, Ferrari's, Rolls-Royce's and Martin's, and Alfa Romeo's make up less than 4% combined.
COLOUR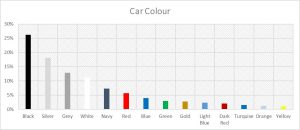 So what could we interpret from these stats about selfish parking car colours?
Black is naturally the number one colour for selfishly parked cars (with 26% share) – seeing it is the most popular car colour in the UK…but, what else do the colour stats tell us?
68% of the cars snapped parking selfishly are either Black, Silver, Grey or White – but they are the all the most popular colours and often white is a work vehicle colour.
Add Navy, Red, and Blue to that one gets a total of 85% of the selfishly parked cars – or 17 in every 20 cars.
The least selfish colour is either Pink or Brown (um, no comment for that one!)
Car Model/Shape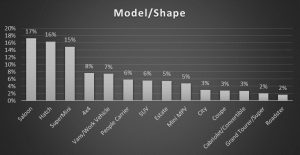 So what could we interpret from these stats about selfish parking car shapes/models?
Worth noting here a couple of things… a)Vans/Work Vehicles include both large and small versions. b) Saloons include medium and large, so a A4 and A6 for example. c) However, A8's and 7-Series would appear in the Grand Tourer/Super Car count as they are luxury cars.
Saloons (Mondeo's, Insignia's) are statistically parked the most selfishly. Is this influenced by saloons often being rep cars?
When adding Hatchbacks (Astra/Ibiza equivalent) and Saloons (Mondeo's & 3 series) together we see 35% of the total number. Perhaps not so difficult to image as they are the most popular shapes.
Third most selfishly parked are SuperMini's (15%) – surprising really as they have more room to play with than most other shapes!
Combined, the larger vehicles of 4×4's, People Carrier's, SUV's and Work Vehicles make a total of 35%.
Interestingly, Super cars, Grand Tourers, and Roadsters – those cars often seen as the most precious only account for 4% of the cars tagged parking selfishly.
Where?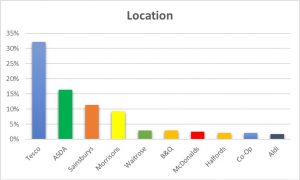 So what could we interpret from these stats about selfish parking locations?
Not all of the cars on our site have their locations tagged – and by location we mean retailer or restaurant and not city or county. Our new site does capture this data, and our new app will have geo-tagging but on looking back at our original pics we can see that of the locations where the photos were taken and noted that…
Tesco's is the Number 1 spot for where selfish parking takes place with a whopping 32%!
Almost 70% of selfish parking takes place in one of the 'big 4' supermarkets.
Lidl, Marks & Spencer, and Argos seem to suffer from the least amount of selfish parking.
83% of the locations noted can be seen above – other spots are KFC, PC World, and Toys R Us.
NB: Only 239 or 22% of pictures taken included stated or could visibly show where the selfish parking took place.
With both car brand and model, there is the view that as there are a lot of Fords and Vauxhalls on the roads more of them will be seen, and similarly for the colour black being the most popular….however these stats represent a particular type of individual…A car cannot choose to park badly, it is the owner who does.
Therefore, based on the above, anyone choosing a…
The owner of a Ford Mondeo in Black who shops at Tesco has a higher chance of being a Selfish Parker.